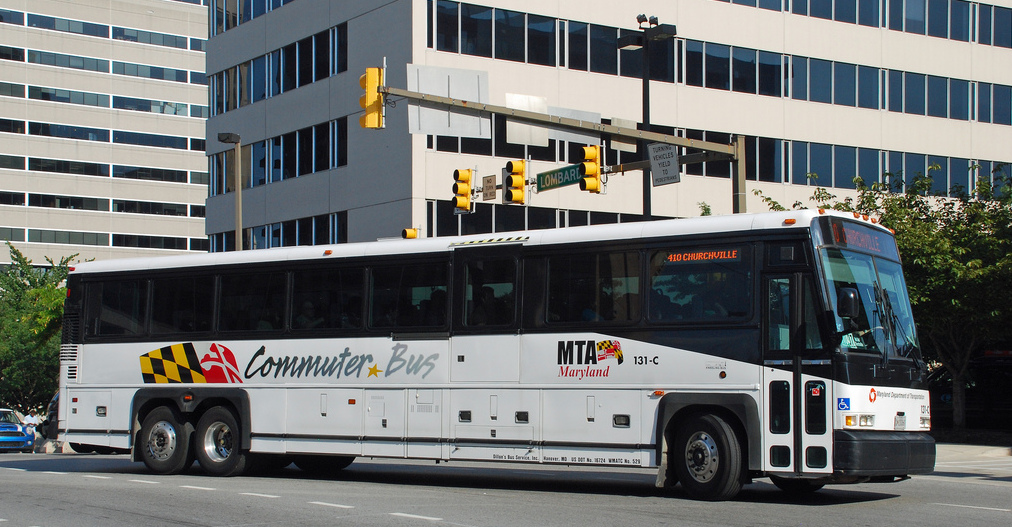 Maryland Transit Administration (MTA) funds and operates the most successful Commuter Express Bus program in the state. Currently, there are nine different routes available – #610, #620, #630, #640, #650, #705, #715, #725, #735, #810, #820, #830, #840, #850 & W19 between Southern Maryland and Washington D.C. during the weekday peak periods. There are limited services available in midday for those who would like to return to Southern Maryland from Washington D.C. earlier.
The Council's transportation staff has been working with MTA in assisting the commuters, monitoring, promoting and marketing the Commuter Bus services for MTA.
---
For detailed route information, click the

bus # below.
For a quick look, click the

"Go" 

button.
Route No.
County
Route Description
610
Waldorf to Washington D.C.
Serves Charles County Commuters
EXPRESS ROUTE VIA MD 210 TO:
Waldorf Park & Ride
U.S. 301 Park & Ride
Washington D.C.
620
Waldorf to Washington D.C.
Serves Charles County Commuters
EXPRESS ROUTE VIA MD 210 TO:
U.S. 301 Park & Ride
St. Charles Towne Center Mall (JcPenny's)
Washington D.C.
630
La Plata / Waldorf to Washington D.C.
Serves Charles County Commuters
EXPRESS ROUTE VIA MD 210 TO:
La Plata Park & Ride
South Potomac Church
St. Charles Towne Plaza
Washington D.C.
640
Waldorf / Accokeek to Washington D.C.
Serves Charles County and Pr. George's Counties
EXPRESS ROUTE VIA MD 210 TO:
Smallwood Village Center
Southern Maryland Blue Crabs Stadium
Accokeek Park & Ride
Washington D.C.
650
La Plata, Waldorf and Accokeek to Washington D.C.
Serves Charles County and Pr. George's Counties
EXPRESS ROUTE VIA MD 210 TO:
La Plata Park & Ride
South Potomac Church
Accokeek Park & Ride
Washington D.C.
705
Charlotte Hall/Waldorf to Washington D.C.
Serves St. Mary's and Charles Counties
EXPRESS ROUTE VIA MD 5 TO:
Charlotte Hall Shopping Center
Mattawoman-Beantown Park & Ride
Washington D.C.
715
Charlotte Hall/Waldorf to Washington D.C.
Serves St. Mary's and Charles Counties
EXPRESS ROUTE VIA MD 5 TO:
Golden Beach Park & Ride
Mattawoman-Beantown Park & Ride
Washington D.C.
725
California / Charlotte Hall to Washington D.C.
Serves St. Mary's County Commuters
EXPRESS ROUTE VIA MD 5 TO:
St. Mary's County Airport
Golden Beach Park & Ride
Washington D.C.
735
Charlotte Hall / Waldorf to Washington D.C.
Serves St. Mary's and Charles Counties
EXPRESS ROUTE VIA MD 5 TO:
Golden Beach Park & Ride
Southern Maryland Blue Crabs Stadium
Suitland Federal Center (Census Bureau)
Suitland Metro Station
Washington D.C.
810
Pindell to Washington D.C.
Serves Calvert & Anne Arundel Counties
EXPRESS ROUTE VIA MD 4 TO:
Pindell Park & Ride
Bristol Park & Ride
Wayson's Corner
Washington D.C.
820
North Beach/P.G. Equestrian Center to Washington D.C.
Serves Calvert & Anne Arundel Counties
EXPRESS ROUTE VIA MD 4 TO:
North Beach
Owings
Prince George's Equestrian Center
Washington D.C.
830
Sunderland/Dunkirk to Washington D.C.
Serves Calvert County Commuters
EXPRESS ROUTE VIA MD 2 & MD 4 TO:
Chesapeake Church
Sunderland Park & Ride
Dunkirk Park & Ride
Washington D.C.
840
St. Leonard/Prince Frederick to Washington D.C.
Serves Calvert County Commuters
EXPRESS ROUTE VIA MD 2 & MD 4 TO:
Crossroad Church
Prince Frederick Park & Ride
Washington D.C.
850
Prince Frederick/Dunkirk to Washington D.C.
Serves Calvert County and Pr. George's Counties Commuters
EXPRESS ROUTE VIA MD 2 & MD 4 TO:
Prince Frederick Park & Ride
Dunkirk Park & Ride
Wayson's Corner Park & Ride
Suitland Federal Center (Census Bureau)
Suitland Metro Station
Washington D.C.
W19
Indian Head Express Line
Serves Charles County and Pr. George's Counties Commuters
EXPRESS ROUTE VIA MD 210 TO:
Naval Surface Warfare Center
Town of Indian Head
Bryans Road Park & Ride
Accokeek Village Park & Ride
Eastover
Southern Avenue Metro Station
---
 Commuter Bus stops are at or near major office buildings and points of interest:
Library of Congress/Annex

US Capitol/House Buildings

U.S. Education Dept. Building

Suitland Federal Center (Census Bureau)

U.S. Energy Dept. Building

Justice Department Building

Treasury Department Annex

Old Executive Office Building

George Washington University
    Bus stops are also at or near major MetroRail stations: